About Us
Orange Tree Imports is a locally-owned specialty shop featuring an incredible range of kitchenware, toys, specialty foods, jewelry, seasonal décor, candles, bath and body products and more. Our shop has been located at 1721 Monroe Street for over 45 years, and is proud to be a founding member of the Monroe Street Merchants Association and Dane Buy Local.
Awards
We are honored to have earned over 30 Best of Madison awards, as well as many other local and national recognitions including being named one of the 10 best kitchenware stores in the United States by FoodNetwork.com. Orange Tree Imports was recently one of four finalists for Retailer of the Century, an award presented by Gifts and Decorative Accessories Magazine. In addition, we have been recognized by Dane Buy Local, InBusiness Magazine and the American Red Cross for our involvement in our community.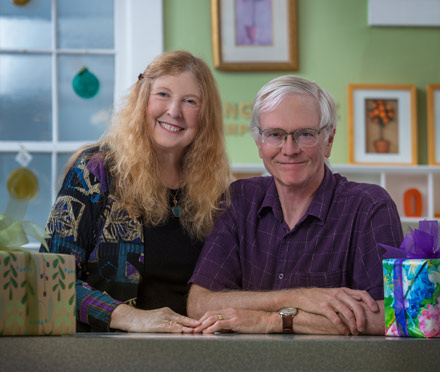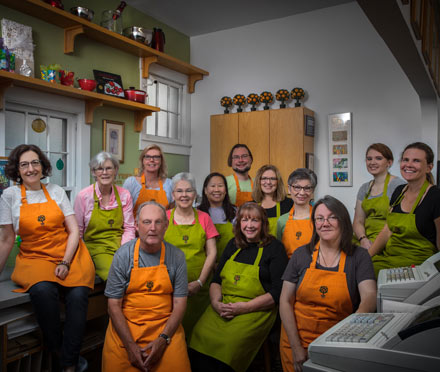 Meet Us
While studying in Europe, co-owners Dean and Carol "Orange" Schroeder were inspired by the enchanting specialty shops of Germany and Denmark. On May 1, 1975, they opened Orange Tree Imports on Monroe Street, Madison's charming shopping district. Dean and Orange pride themselves in a unique management style that empowers their staff to utilize their talents in customer service, hiring, buying and merchandising.

Specialty Shop Retailing
Orange wrote a book for her fellow shopkeepers entitled Specialty Shop Retailing: How to Run Your Own Store in honor of Orange Tree Imports' 20th anniversary in 1975. Over 40,000 copies have been sold to date, including a translation into Russian, and now there is a 4th edition that offers greatly expanded information about competing with Amazon, using social media effectively and other important topics for today's retailers. Order your autographed copy now - free shipping during the month of November! (For Canadian orders, please go to Indigo Books.)
Buy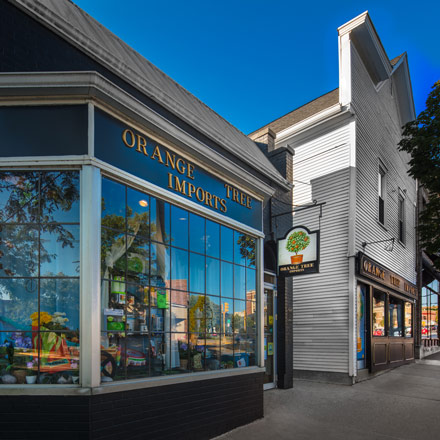 Location
Our shop, which is just two blocks from the University of Wisconsin's Camp Randall Stadium at 1721 Monroe Street, is recognizable for its unusual leaded glass bay window, built by an Englishman in the 1910s. The adjoining tall building was originally a town hall and was moved to Monroe Street over 100 years ago.
Parking is usually available on our street or in the neighborhood. There is a public lot located at the end of our block next to the Monroe Street Library.
Hours
STORE HOURS We are open for in-store shopping Sunday and Monday Noon-4:00 and Tuesday through Saturday 10:00-5:30. We offer personalized phone shopping from during those hours at 608-255-8211. You may pick up your phone orders at the store.